#Celebrity
10 Celebrity Fast Food Junkies That Would Surprise You
by Jennifer Lafferty
Of course fitness and dieting are a big part of being a celebrity, but that doesn't mean they don't have cheat days. These 10 celebs love their junk food as much as everybody else.
We always picture celebrities eating right and exercising—especially before red carpet season—but even super models have their cheat days. And why shouldn't they? Celebrities need a little Mickey D's too! Whether they're hitting up a fast food restaurant or stocking up on decadent snacks, these 10 celebrities definitely understand the importance of treating themselves.
GIPHY
1. Katy Perry
Although the fitness-conscious pop star has cut most junk food out of her diet, she still has at least one guilty pleasure: double cheeseburgers. Perry told People, "The only thing I stop for now is In-N-Out Burger." Judging by her amazing figure, Perry probably doesn't indulge her fast food cravings too often.
via GIPHY
2. Bradley Cooper
It's easy to imagine Bradley Cooper in a fancy gourmet restaurant, especially if you're one of the few people who saw his 2015 culinary drama Burnt, but Cooper's favorite eatery is actually Pizza Express. The trim star had a good excuse to eat whatever he wanted a few years ago when he needed to gain 40 pounds for American Sniper.
3. Selena Gomez
This celebrity loves snacking on Flamin' Hot Cheetos on the tour bus and also has a soft spot for chocolate. Who doesn't? Plus, she's proud of the body she's in, no matter what. Last year, after the singer posted a picture of her curvy figure in a bikini, an Instagram user told her to, "Stop eating junk food." Gomez, who captioned the photo, "I love being happy with me yall #theresmoretolove," insists this kind of criticism doesn't bother her.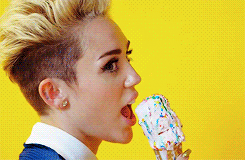 GIPHY
4. Miley Cyrus
Although the svelte songstress has said that she follows a gluten-free diet, she's obviously not a fanatic about it. Cyrus has been photographed at fast food restaurants like In-N-Out Burger, Sonic, and Hardees. Seeing her midriff, you'd never guess she went anywhere near junk food, but we all need a cheeseburger every now and then.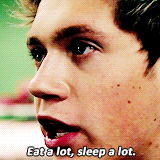 via GIPHY
5. Niall Horan
A self-proclaimed foodie, One Direction's Niall Horan likes a wide range of fast food but has a special place in his heart—or stomach, rather—for the international chicken chain Nando's. Answering a Twitter question about what he orders there, Horan gave this detailed response: "A chicken wrap, a double portion of curly chips, five hot chicken wings, corn on the cob, and a drink."
6. Chrissy Teigen
This gorgeous supermodel has found a way to chow down on White Castle burgers and Taco Bell and still look unbelievable in a swimsuit. In response to a Reddit question about her slim figure, Teigen said: "I work out very hard for a very brief period of time before a shoot. Maybe a week before and then never again until the next one (I don't condone this, just being honest here haha)." Her favorite item at Taco Bell is the Cool Ranch Doritos Locos Taco, of course!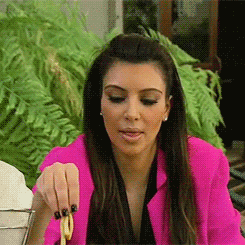 via GIPHY
7. Kim Kardashian
Despite her strict Adkins diet, Kim K admits that it's hard to ignore her fast food cravings. Admitting to a love of McDonald's, KFC, and, you guessed it, In-N-Out Burger, Kim writes, "Fast food is def one of my guilty pleasures. I go very rarely, but OMG I love it so much when I decide to indulge."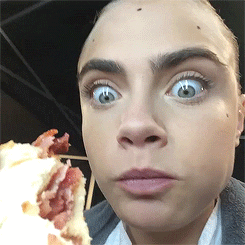 GIPHY
8. Cara Delevingne
This model-turned-actress is also very open about her passion for fast food. Not only does she frequent McDonald's but she's not shy about giving advice on what to order. According to Delevingne, you shouldn't waste time with things like Chicken McNuggets. Go straight for the Big Mac. She claims to have some good excuses for giving into her hearty appetite, saying, "I need to eat a lot otherwise I feel faint. I get in the worst moods if I don't eat."
9. Jourdan Dunn
Like Niall, British model Jourdan Dunn is also devoted to Nando's. When the British Angel was working the 2014 Victoria's Secret Fashion Show in London, she highly recommended the popular chicken eatery to all the girls. Other models at the show admitted to indulgences like cookies and pumpkin bread.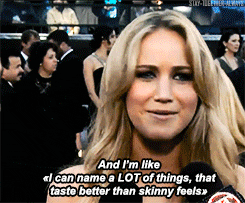 GIPHY
10. Jennifer Lawrence
From ice cream to Doritos, Jennifer Lawrence's love affair with junk food is very public. But the actress's all-time favorite junk food is pizza, of course, which should come as no surprise to anyone who saw Lawrence scarfing down a slice that Ellen DeGeneres ordered for the 2014 Oscars.