#Celebrity
10 Reasons Why Britney Spears' 'Britney' Album Is The Peak Of Her Career
by Bethany Lozier
Although 'Britney' wasn't the singer's most successful album, we can all agree this Britney Spears era was undoubtedly the best. Don't believe us? Let's take a walk down memory lane.
It's Britney, bitch. Well, sort of. While Britney Spears didn't coin her iconic catchphrase until 2007, Queen Brit still reigned supreme when her third album Britney hit the shelves in 2001.
Britney may not have spawned as many popular singles as its predecessors, (no "Lucky" or "…Baby One More Time" standouts here), but it did grace us with the best era Britney's ever had. Let's face it, no one's ever going to top her 2001 VMAs performance or her denim dress duo with Justin Timberlake. Maybe not even Brit herself. Let's all reminisce on the best moments of the Britney era.
1. The "I'm A Slave 4 U" Music Video
This was probably the one time in your life you actually aspired to become a belly dancer like Brit (no judgment here). Your parents also likely tried to turn off the TV whenever it aired, but you were still inspired nonetheless. What was with everyone licking each other?
2. The 2001 VMAs Performance
If this slithering, snake-filled dance didn't define the 2001 VMAs, we just don't know what did. This moment may have also been most of the definitive performances in Brit's career, TBH.
3. The Time She Performed At The Super Bowl With Aerosmith And NSYNC
Yes, this happened. This was real life. Britney Spears graced that tiny Super Bowl stage with her then-boyfriend Justin Timberlake, Steven Tyler, and Mary J. Blige. While it was brief, it was glorious. Frankly, we don't talk about this performance enough.
4. The "Overprotected" Music Video
Who could forget those purple frosted sunglasses? You probably blasted this tune when your parents wouldn't let you go out or hang with your friends, making it the perfect teen angst anthem.
5. Crossroads The Movie
This is an Oscar-winning film (JK, but seriously). Crossroads marked Spears' debut as a silver screen actress and essentially became the best friends' film of the 2000s.
6. When Britney And JT Played Basketball Together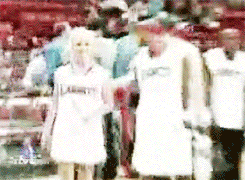 Their jerseys even featured their nicknames for each other (Britney's was Pinky and Timberlake's was Stinky). RIP to the best couple of all time.
7. The "Boys" Music Video
Remember this dance floor smasher? Pharrell and Chad Hugo helped write and produce this single, and it was even featured in Austin Powers in Goldmember. Yeah, baby, yeah!
8. The "Joy Of Pepsi" Commercial
Pepsi sponsored Brit through her early years, and she starred in several memorable advertisements in the early 2000s. Did you catch the Pepsi belly button ring in this one?
9. The Dream Within A Dream Tour
To promote her Britney album, Brit toured across North America and sold out nearly every show. Maybe watching all of these live performances will transport us back to 2001…
10. The JT Song Collaboration "What It's Like to Be Me"
The second to last song on Britney, "What It's Like to Be Me," features vocals from Timberlake and is basically the ultimate testament to this dream couple's famed relationship. Brit and JT were too pure for this world.