#Celebrity
6 Best Girl-Power Moments From The Miss America Pageant — Seriously
by Hannah Marsh
Pageant life is rightly called out for being problematic for women, but the 2017 contestants brought some serious girl-power.
While no one was mistakenly crowned in last evening's Miss America pageant (but congratulations to Miss America 2017, Savvy Shields!) there were still quite a few memorable moments throughout the show. Some of them made us want to sing Beyoncé's "Run the World (Girls)" at the top of our lungs for the rest of the night and others made us a cringe a little bit, but here are some of our personal favorite moments.
I'm Savvy Shields and I am now #MissAmerica! pic.twitter.com/ZPRkmjMWKR

— The Miss America Org (@MissAmerica) September 12, 2016
1. Miss Missouri Makes LGBTQ History
Erin O'Flaherty Miss Missouri made history on the Miss America stage when she competed as the first openly gay woman in the pageant. While she told The New York Times of her excitement in representing the LGBT community, she also stated, "I think other people tend to focus on it, but it is one part of who I am and the work that I do. It is just as important for people to realize I am not one dimensional." *insert praise hands emoji here*
2. Miss South Carolina Stands Up For Immigrant Rights
In a year that seems to revolve around a fiery election, the speed-interviews of this year's pageant were no different. Tough, political questions were asked, but some of the women delivered. Miss South Carolina, Rachel Wyatt, ended her 20-second reply with a figurative mic drop after answering a question about the nation's immigration issues. It was a topic that hit close to home as she spoke about her great-grandfather who was an immigrant from Japan. "I think America really is a nation built on immigrants," she confidently stated to the world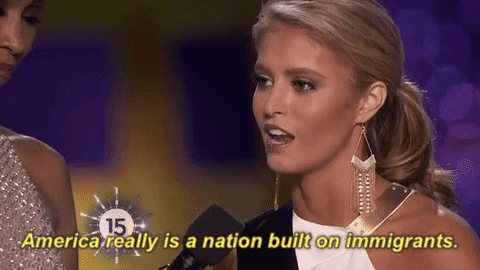 3. We're Reminded Why Gabby Douglas Is The Best
We fully applaud the confidence and courage that Miss California, Jessa Carmack, brought to the stage as she performed her tumbling routine… in front of judge and three-time Olympic gold medalist in gymnastics Gabby Douglas. Doing back handsprings on stage in front of millions is hard enough, let alone performing them with an Olympic champion sitting front and center.
When you choose tumbling as your talent and Gabby Douglas is a judge. #MissAmerica #oops pic.twitter.com/b7at4ZpZa7

— Sarah Kneedler (@SarahKneedler) September 12, 2016
4. Miss Michigan Shuts Down Racist Trolls
Arianna Quan was the first Asian-American to be named Miss Michigan, but the amount of backlash she received after her crowning was appalling. While some were extremely positive, many of the comments were surprisingly negative, saying that the contestant was not worthy of representing the Chinese population because they felt she was ugly—which is absolutely preposterous if you ask us. However, in true Miss America-contestant fashion, Quan gracefully (and assertively) replied on her Instagram.
5. Mark Cuban's Creepiness Was Called Out
Mark Cuban's creepy reaction to the swimsuit competition. Gross.
Mark Cuban.

Ruining pageants since about ten minutes ago. #MissAmerica

???????????? pic.twitter.com/uSgy4IGK5Y

— Ryan Wood (@RyanWoodDFW) September 12, 2016
Thankfully, he was being called out left and right on social media for his reaction.
6. Eliminated Contestants Rallied Together
Being one of the first 37 women cut from the competition almost immediately could have been devastating for some. However, positivity is obviously key for Miss Minnesota (and this year's appropriately-crowned Miss Congeniality) Madeline Van Ert, though, as she led her fellow ex-contestants in an acapella rendition of Shania Twain's "Man I Feel Like a Woman." It was a brilliant move by the Minnesotan considering we'd put money on the idea that no one has ever actually frowned while singing Shania Twain — and that now also includes not being named Miss America.