#Celebrity
Everything You Need To Know About Simone Biles and Zac Efron's Social Media Love Story
by Faith Brar
Simone Biles seems to have launched her way in Zac Efron's heart.
Remember when all of America was swooning over Zac Efron? His gorgeous singing voice and Beiber flow was irresistible in High School Musical. Well, it turns out, three-time gymnastics world champion and now Olympic champion, Simone Biles, STILL has the biggest crush on our favorite teen star. And she isn't afraid to show it.
It all started with a tweet back in 2013.
zac efron is just????❤️????

— Simone Biles (@Simone_Biles) November 25, 2013
Even her family and friends have been on board with her obsession. They even gave her a life size cut-out of Efron for Christmas.
hi @ZacEfron
merry christmas to me???? pic.twitter.com/mXOtlfd3x2

— Simone Biles (@Simone_Biles) December 25, 2014
@ZacEfron ????❤️???? ilysm???? pic.twitter.com/dm05MEIa2q

— Simone Biles (@Simone_Biles) December 25, 2014
Months later when Simone got asked to be on The Ellen Show, Ellen too was aware of her crush. So, of course, they chatted about it.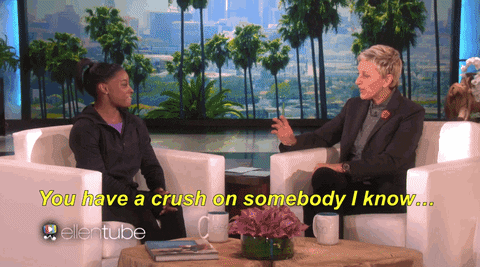 And Ellen did what Ellen does best, and gave Simone the gift of her dreams: a leotard covered in Zac Efrons. It really doesn't get much better than that.
CAN I PLS PLS WEAR MY ZAC EFRON LEO TO P&G's @ZacEfron ❤️???? thanks @TheEllenShow for having me! pic.twitter.com/h8TmhoQqh7

— Simone Biles (@Simone_Biles) March 8, 2016
Obviously this was enough to get Zac's attention, who finally gave in and tweeted at Simone, wishing her the best of luck at the Olympic trials.
OH MY GOSH I THINK I AM GOING TO PASS OUT OH MY GOSH CRYING! THANK YOU ????

— Simone Biles (@Simone_Biles) July 8, 2016
The next time the pair interacted, Zac reached out to Simone on Twitter. He seemed to be in awe of the fact that Simone had a gymnastics move named after her.
Thanks Zac! I hope you can watch Team Final tomorrow night.

— Simone Biles (@Simone_Biles) August 9, 2016
The best part of this social media love affair, however, happened when Zac posted a picture to his Instagram and Twitter, telling the world that he was watching the Final Five.
Of course I'm watching the #FinalFive ????????????????????dominate the floor! ????#Rio2016 #TeamUSA pic.twitter.com/wdgVnvWOCa

— Zac Efron (@ZacEfron) August 10, 2016
Last night, Simone became the most decorated Olympic gymnast in history, winning her fourth gold and fifth Olympic medal at the Rio Games. As if the excitement of that wasn't enough, she got the surprise of her dreams when Zac showed up to surprise her in person.
The surprise was orchestrated by TODAY, who documented Team USA's reaction when Zac stepped into the room—and it is priceless.
The moment when @ZacEfron made @Simone_Biles' life! #RioTODAY pic.twitter.com/cQNZvXpjyE

— TODAY (@TODAYshow) August 17, 2016
Of course Simone had to document the entire interaction on Snapchat. "Tell me when it's going, I don't know how to Snapchat," Zac innocently tells her while she is recording. "It's going," she says. Then Zac kisses her on the cheek and she bursts into giggles.
proof : had to do a retake bc I thought we were taking a picture then he kissed me instead ❤️ pic.twitter.com/rld33V14qe

— Simone Biles (@Simone_Biles) August 16, 2016
Quickly after, she returned the favor, and kissed him back .
on cloud 9 ????☁️ @ZacEfron pic.twitter.com/3lFpi1tuwF

— Simone Biles (@Simone_Biles) August 16, 2016
Thankfully, Simone was willing to share her one-true-love with the rest of Team USA, who were equally exstatic to meet the High School Musical hottie.
Laurie Hernandez's Instagram caption might take the cake.
Aly Raisman told TODAY's Bob Costas that the team planned to grab pizza with him later and maybe squeeze in a few workouts in as well. What better way to end women's gymnastics in Rio?
While all of us have been awing over Zimone, there is someone who is not having this love story. "Sorry Zac Efron, I saw her first…she is my girl," Brazilian gymnast Arthur Mariano captioned an Instagram photo with Simone. Fortunately, the host country Olympian––who won a bronze medal in men's floor routine––was only kidding, and has confirmed to NBC that he and Simone are just friends IRL. 
Even though Simone isn't really involved with either Zac or Arthur, there are worst things in life than winning five Olympic medals AND being stuck in the middle of an internet squabble between two very cute, talented guys. So stay tuned––we'll keep you posted with updates in this (almost) love story as they develop!