#Celebrity
Hold Up! Blue Ivy Carter Is Apparently Getting Her Own Beauty Line
by Hannah Marsh
Beyoncé's firstborn is about to get her name officially trademarked, and it could mean some fabulous beauty products in her future.
In a move that looks like she's already following in her mother's footsteps to take over the world, Blue Ivy Carter might just be gearing up to launch a line of her very own products.
According to TMZ, if a legal form that was set in motion earlier this month is approved, Blue Ivy is set up to be the youngest-ever celebrity to get a beauty deal (which is only fitting for an offspring of Beyoncé's).
The line would be trademarked as Blue Ivy Carter products, but this isn't the first time Bey's company has tried to reserve the young celeb's name. In 2012, they filed a similar application, but someone already had dibs on the title, Blue Ivy. Regardless of the name, we have a feeling the products will still be as fabulous as the founding family, itself.
Some of the potential products mentioned in the documents include "for adults and infants" fragrances, skin and hair care products, lotions, and cleansers. But because this practically-royal family doesn't leave any bases uncovered, there is also plenty of merchandise in the lineup, including books, bibs, leather handbags, key chains, glass wear, baby teething rings, strollers, and oh-so-much more.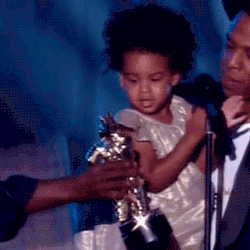 No word on what to expect from Blue Ivy or when the line would drop (maybe she's just really preparing for her future!), but one thing is for sure, Blue Ivy is making darn sure the news of Beyoncé being pregnant with twins doesn't outshine her firstborn status.