#Celebrity
Leaked DNC Emails Reveal The Crazy Reason Why Ariana Grande Was Rejected By The White House
by Faith Brar
#DonutGate continues to haunt Ariana Grande in a series of DNC emails leaked by Wikileaks.
Ariana Grande's doughnut scandal is hard to forget. The event, now known as #DonutGate, refers an incident in which Grande was caught on video licking doughnuts she did not intend to buy. The same video also showed the pop star declaring that she, "hates Americans and hates America," after a giant tray full of doughnuts was placed in front of her. Needless to say, the public was shocked and appalled by the 23-year-old's behavior. Turns out, the POTUS was equally displeased.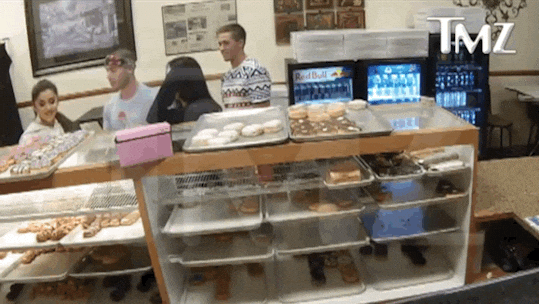 Wikileaks recently leaked thousands of emails from the Democratic National Committee. One chain of e-mails shows how the White House vetoed Ariana Grande from performing at a gala because of the #DonutGate scandal. The DNC Financial Chair, Zachary Allen, sent a very detailed email subjected: "Performer for POTUS." Part of the e-mail reads:
"Can we also vet Arianna Grande? Video caught her licking other peoples' donuts while saying she hates America; Republican Congressman used this video and said it was a double standard that liberals were not upset with her like they are with Trump who criticized Mexicans; cursed out a person on Twitter after that person used an offensive word towards her brother."
The e-mail mentions how the singer stood up for her brother on Twitter after an internet troll called him a homo. "That 'homo' is the fiercest, most incredible, funniest, most intelligent, kind hearted and most LOVED person on the face of the planet," Grande tweeted. "So i don't give a flying f**k if or when he comes home!!! he is incredible and i am SO proud!!!! oh and also 'that homo' gets more a** than you'll ever get in your life. k miss thing ?"
All things considered, Special Assistant to the President Bobby Schmuck gave the final answer on whether she could perform saying: "Nope, sorry."
Honestly though, it's hard to blame him.