#Movies & TV
10 Times SNL Said What All Women Were Thinking In The Funniest Way
by Hannah Marsh
The show is hilarious. However, these issues are not.
The cast and crew of Saturday Night Live are notorious for calling out BS when they see it, and if you ask us, the inequalities between men and women that still exist today fall exactly under that category. Here are 10 (of many!) times that SNL has called some much-needed attention to issues that concern all of us women.
1. "Melanianade"
An absolutely genius remake of Beyoncé's Lemonade music video, we couldn't get enough of Cecily Strong as a pissed off Melania Trump revolting against her husband and his scandalous campaign as the 2016 Republican nominee for president.
2. Tina Fey and Amy Poehler, All The Times
These two women broke a lot of boundaries and stereotypes for women in comedy, so every single time they took the stage, our girl crush(es) grew a significant amount. More than anything, though, we love their brutal honesty when it came to calling out inequalities against women.
3) "Bitches Get Stuff Done"
Throwback to when Fey and Poehler reminded us all that "bitches get stuff done" in this 2008 sketch on HRC's campaign against Obama for the democratic nomination.
4) "CHONK"
In a perfect dis to women's clothing companies and their subtle, body-shaming tendencies, CHONK is a delightful spoof that calls out the less-than-empowering messages some brands send.
5) Jane Curtin On "Weekend Update"
In a very real moment on a classic Weekend Update sketch, Jane Curtin read a letter from a viewer that wanted the "sexy Chevy Chase" back in her spot on the show. Her epic response included annoyance over the viewer not seeming to care about good journalism and the deliberate flashing of her bra on national television. Ugh. We love you, Jane.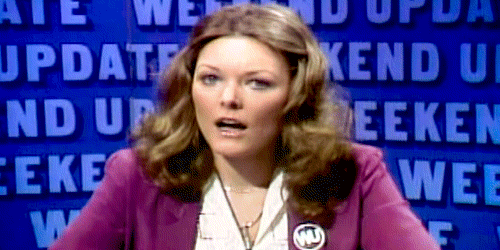 6) Presidential Barbie
This faux-mercial pokes fun at the millennial generation, that is seemingly so progressive the gender of our next commander-in-chief (or Presidential Barbie in this case) doesn't even matter, when in reality there are several other generations of sexism we still need to combat.
7) Feminism Anthem
While the women in this clip deliberately state the tune they're singing is not a feminist song, that is, in fact, exactly what it becomes. In a hilarious video, they find a way to call out the complexity and intricacies of feminism as a whole, without directly saying anything at all.
8) Workplace Warriors: Glass Ceiling
In a throwback to the iconic 1980s businesswoman, Miley Cyrus and Aidy Bryant take on their misogynistic male bosses to shatter the glass ceiling and gain total equality for women (we wish).
9) Donald Trump's Comments And Attitudes Toward Women
The presidential candidate is notorious for saying awful things about the female population, and in lieu of the Republican candidate's disgusting Access Hollywood tape that was released earlier this month (and his general disrespect of women), the comedy show nailed the sketch of the second presidential debate. (Also, MAJOR props to Alec Baldwin and Kate McKinnon.)
10) Not Surprisingly, More Donald Trump
Just because the Republican nominee has given the SNL actors more than enough material against women to work with.