#Movies & TV
8 Things You Need To Know From The 2017 Academy Awards
by Hannah Marsh
The 2017 Academy Awards Show will definitely leave its mark on history. Here are the top eight moments you need to see for yourself!
Oh, the Academy Awards. A night of stunning red carpet looks, awards, upsets, and Hollywood glamour-galore. Between incredible performances and some jaw-dropping moments (and not necessarily for good reasons!), the 89th Academy Awards was one that won't soon be forgotten.
Have no fear if you missed one of Hollywood's biggest nights, though. We've recapped eight of the biggest moments from Sunday night's Oscars, so you'll be able to join in on all of the juicy conversations in the break room Monday morning!
1. Katherine Johnson Became A 'Hidden Figure' No More
Hidden Figures stars Taraji P. Henson, Octavia Butler, and Janelle Monaé brought Katherine Johnson, the 98-year-old former research scientist who was the inpsiration for the Oscar-nominated movie, on stage. It was an extremely moving moment as the crowd gave Johnson a well-deserved standing ovation.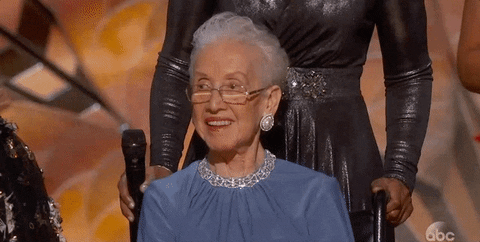 2.Auli'i Cravalho's Incredible Debut
16-year-old newcomber Auli'i Cravalho, the voice of Moana from Disney's 2016 film, absolutely slayed in her incredible debut performance of "How Far I'll Go" by Lin-Manuel Miranda. She even played it cool after getting hit in the head by an on-stage prop, proving to the world how much of a true professional she already is.
Everything about this. #Oscars @DisneyMoana pic.twitter.com/JmNo4cOUmx

— Aaron Vallely (@Vallmeister) February 27, 2017
3. That Time It Rained Food
Because even on one of Hollywood's biggest nights, celebrities get hungry, too. Early in the evening, Junior Mints and Red Vines fell from the ceiling, and toward the end of the night Kimmel summoned cookies and doughnuts. The food kept everyone smiling, and Queen Meryl Streep definitely enjoyed it.
Can't wait for Meryl Streep to win an award for her Junior Mints commercial pic.twitter.com/jAEGk6x4LT

— Dugan (@duganinja) February 27, 2017
4. The Harry Potter Franchise Finally Clenched An Oscar
It might be hard to believe, but Fantastic Beasts and Where to Find Them was the first of the enchanted franchise to bring home a gold statue. The movie won for Collen Atwood's Best Costume Design.
5. Viola Davis Award For Best Supporting Actress
As a three-time Oscar nominee, Viola Davis finally took home this year's award for Best Supporting Actress for her incredible role in Denzel Washington's Fences, and her speech had everyone crying some very real tears. The actress only needs to win a Grammy to clench a total EGOT.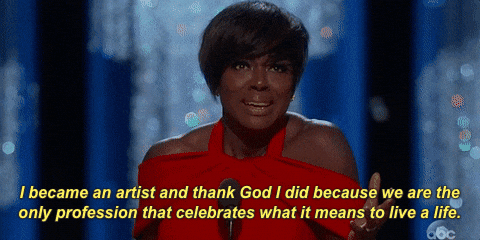 6. Mahershala Ali Became The First Muslim Oscar Winner
Mahershala Ali won Best Supporting Actor for his role as Juan in Bery Jenkins' Moonlight, making history by becoming the first Muslim actor to ever win an Academy Award.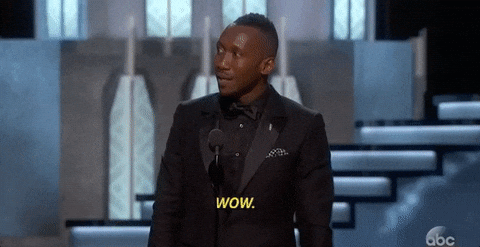 7. The Tour Bus Act
In a fun twist of events, host Jimmy Kimmel pranked a group of passengers who were on a Hollywood tour bus. He had them dropped off in the middle of ceremony, letting them walk right past the front row of celebrities (think: Ryan Gosling, Jennifer Aniston, Nicole Kidman).
When Kimmel learned that two of the tourists were engaged, Denzel Washington was apppointed to officiate the wedding on the spot. Still no word of whether that actually makes it legal or not, but what a great story to tell the grandkids!
Watch Denzel Washington marry two of Jimmy Kimmel's surprise guests at the #Oscars. pic.twitter.com/OWBrQd2sDV

— Hollywood Reporter (@THR) February 27, 2017
8. The Miss Universe-Style Best Picture Mix-Up
In an extremely weird series of events, La La Land, basked in the short-lived victory of the award for Best Picture, given out by Warren Beatty and Faye Dunaway — until the crew running the show realized in the middle of their speeches that there had been a mix-up in the envelopes and that Moonlight was the true winner.
No one was really sure how to handle the situation, and Twitter blew up at the all around uncomfortableness of the situation.
And the Academy Award for Best Picture ACTUALLY goes to… Moonlight! #Oscars pic.twitter.com/fubHaRH7Ds

— Channel 9 (@Channel9) February 27, 2017