#Movies & TV
The Best On-screen Shopping Scenes
by Jennifer Lafferty
Jonesing for a shopping spree but on a bit of a budget? Live vicariously through some of your favorite on-screen characters as they shop 'til they drop.
Shopping scenes in movies can effectively show the transformation of a character, which is one reason they are used so frequently in movies of all kinds. Sometimes these scenes signal a dramatic makeover, such as the famous shopping scene from Pretty Woman, and sometimes shopping plays an even larger part in the movie, like the feature film adaptation of Sophie Kinsella's Confessions of a Shopaholic. These five on-screen shopping scenes make us want to whip out the credit cards.
Pretty Woman: Of all the instant transformation scenes in film, the Rodeo Drive shopping scene in Pretty Woman is probably the most memorable in the minds of moviegoers. Aside from the stunning makeover itself, which takes Vivian from her skanky hooker look to refined lady, the most powerful thing about this part of the movie is the contrast between the initial rudeness of the stuck-up sales associates toward Vivian and their gushing friendliness following Edward's intervention.
Crazy, Stupid Love: The mall montage in this film starring Steve Carell as a middle-aged guy (Cal) reentering the dating world when his wife asks for a divorce is a refreshing departure from typical movie makeover scenes because this one centers on a man as opposed to a woman. With the help of Ryan Gosling's younger, hipper character, Jacob, Cal's look goes from schlubby dad to ultra-stylish hunk.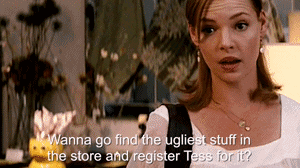 27 Dresses: The memorable shopping scene from this 2008 romantic comedy starring Katherine Heigl and James Marsden doesn't involve clothes but gifts for a wedding registry. Heigl's character, Jane, a frequent bridesmaid, is choosing items for her sister's wedding registry while hanging out with wedding columnist Kevin (Marsden) when the perusal of these domestic odds and ends leads the characters to open up about their differing views on marriage.
Love Actually: This star-studded 2003 romantic comedy features a comical and revealing shopping scene in which Harry (Alan Rickman) is prompted to buy an expensive Christmas gift for his mistress. Harry is in a hurry to get the necklace gift wrapped and pocketed before his wife, Karen (Emma Thompson), returns from her own shopping, and he becomes infuriated with the uncooperative salesman who prolongs the gift wrapping by fussing over every detail of the package. This scene humorously demonstrates how uncomfortable Harry is with his role as an unfaithful husband.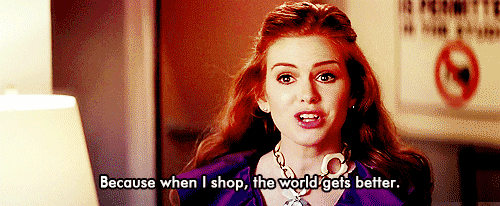 Confessions of a Shopaholic: Obviously, shopping is an important part of this 2009 comedy farc,e but there is one particular scene that resonates with serious shoppers everywhere: when Rebecca (Isla Fisher) comes across a seemingly simple green scarf, which she is convinced has the power to change her life. Rebecca's intuition proves to be accurate when it helps her land a job as a financial journalist, and she ends up writing a column known as "The Girl in the Green Scarf."