#Movies & TV
Disney's 'Frozen' Almost Had A Totally Different Ending
by Hannah Marsh
Apparently Elsa was the original villain, and she wasn't even related to Anna!
It doesn't seem to matter what age range you fall in, Disney's Frozen is truly one of the best animated films of our generation. From the killer soundtrack (Don't lie, we can check your Spotify to see how many times you listened to "Let It Go.") to the "true love" factor being the love between Anna and Elsa's sibling bond, we can't imagine the film ending any other way.
However, one of the producers of the award-winning film has revealed that it was very close to having a totally different plot line, and spoiler alert: it was a lot darker than the final version.
Disney's Peter Del Vecho spoke with Entertainment Weekly about the differences in some of the first drafts.
"When we started off, Anna and Elsa were not sisters. They weren't even royal. [what?!] So Anna was not a princess. Elsa was a self-proclaimed Snow Queen [Wait, can we proclaim ourselves queens, too?], but she was a villain and pure evil—much more like the Hans Christian Andersen tale." Del Vecho explained. "We started out with an evil female villain and an innocent female heroine and the ending involved a big epic battle with snow monsters that Elsa had created as her army."
Ugh, pitting women against women. So tired.
Those snow monsters probably would have been way more terrifying, but imagine a bunch of angry Olafs fighting each other at the end. That would've been crazy!
Del Vecho also revealed that most of the early iterations involved Elsa being stood up at the altar and soon after freezing her own heart so she would never love again. This led to her being a scorned woman and Arendelle's evil supervillain. Ugh. She just couldn't let it go, you know?
"The problem was that we felt we had seen it before," Del Vecho told EW. "It wasn't satisfying. We had no emotional connection to Elsa—we didn't care about her because she had spent the whole movie being the villain. We weren't drawn in."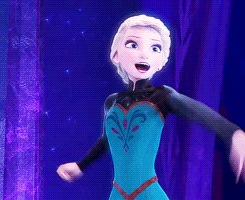 "That led to making Elsa a much more dimensional, sympathetic character, and instead of the traditional good vs. evil theme we had one that we felt was more relatable: Love vs. fear, and the premise of the movie became that love is stronger than fear."
Wow. Truly brilliant considering that theme was a huge reason behind the movie's success!
He also added that the team behind the film ended up questioning the need for true love to swoop in, and director Chris Buck took that and ditched the Disney Prince idea all together.
"Chris said, ' Does it always need to be true love's kiss that solves the problem?'" Del Vecho reminisced. [We're so on board with that!] "Does it always have to be the man who comes in and rescues the female? Could it be something different?' And that led to a different ending."

And there you have it, folks. It's crazy to think about one of our favorites having a totally different ending. If you want our opinion, we're pretty convinced that
Frozen
couldn't have wrapped up any better. And with all of the success of the animated film, we're positive that the creators feel the same.
Oh, and in case you were wondering, Prince Hans was always going to suck.