#Movies & TV
Ellen Degeneres Gathers a Girl-Squad for a "Magic Mike" Parody
by Sierra Burgos
The only thing better than "Magic Mike"? "Magic Michelle," starring Ellen Degeneres and her celebrity gang of amateur strippers, gives us hope that there will be an all-female remake of yet another popular classic.
Step aside, Channing Tatum. Ellen Degeneres and crew are giving you a run for your money.
The Ellen Degeneres Show will return this upcoming Tuesday for its 14th season, where Channing Tatum will share footage from the wildly anticipated Magic Mike Live, planned to debut in March of next year. "Magic Mike was a huge, huge hit… So big that they're actually doing an all-female reboot because, you know, they're doing that with everything," Degeneres said in the teaser video, which was posted yesterday. "I get to show you the exclusive sneak peek and here it is." 
And it definitely didn't disappoint. The video stars Olivia Munn as "Honeydew" (highlighting her fake oversized boobs), Jenna Dewan-Tatum as "Peppermint," Chrissy Teigen as "Linda Peterson," and of course, Ellen Degeneres as the title role of "Magic Michelle."
The four took turns bouncing to the tune of "Pony" by Ginuwine, which honestly can make any dance moves look kind of sexy. Easily the best ensemble is Magic Michelle's jumpsuit, toolbelt, fake cleavage and blonde wig—she even grinds so hard at one point that she loses a chunk of hair. It's inspiring, honestly.
"For some reason I thought it'd be agood idea to have Jenna teach me some dance moves," Degeneres explained. "She kept telling me to drop it way down low, so now my down-low hurts really, really bad." That's dedication if we've ever seen it. And as if this spoof wasn't already hilarious enough, enter Oprah Winfrey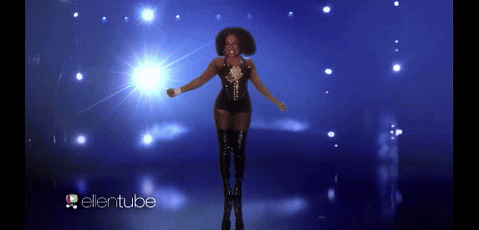 Thanks to some heavy editing, Oprah made an appearance as a stripper (Okay, so maybe it's just her head on a stripper's body… We're still impressed by those splits).
"This fall, Hillary's not the only one bringing women to the polls," a voiceover joked. Degeneres admitted she felt like a changed woman after Magic Michelle. "My knees spent a lot of time recovering," she said. "I have a new respect for strippers. Give them more than singles, you guys!"
Here's to hoping for an actual Magic Mike remake. We've got our fingers crossed.