#Movies & TV
'Hidden Figures' Is Already Inspiring Girls To Pursue STEM Careers
by Hannah Marsh
Since the release of Hidden Figures, girls have already started expressing interest in science and technology career paths, and we hope it's a trend that never stops.
It's no secret that the STEM fields (science, technology, engineering, and mathematics) tend to be male-dominated. A recent study published in the journal Science claimed that girls as young as six are being led to believe that men are inherently smarter, and while that should severely trouble all of us, the award-winning film Hidden Figures might be changing these behaviors for the better.
"This movie, I believe is a movement … [it's] bigger than all of us," Hidden Figures actress Taraji P. Henson declared on the red carpet at the Screen Actors Guild awards on Sunday, and it's safe to say that her statement is already proving to be true.
The film is a true story centered on three African-American women working at NASA, who, though rarely mentioned in history classes, were the brains behind the launch of astronaut John Glenn. Aldis Hodge, who plays mathematician and aerospace engineer Mary Jackson's husband Levi in the movie told The Cut:
"We've already seen that affect happen nationally. We're constantly doing panels for STEM and STEAM all over … It's taken a life of its own, and a lot of people are really supporting it. I love the fact that a lot of these girls are now getting support for their interest. It's fantastic. I hope that it just keeps going."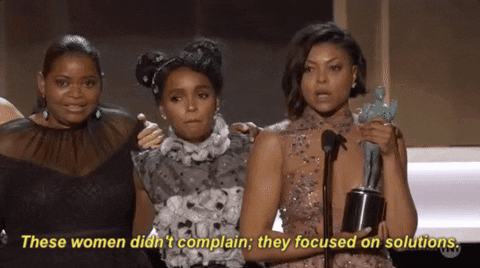 We sincerely hope so, too, and with free screenings of the film being held for around the country this month, we can't wait to see how many young girls are truly inspired.
However, not only are we optimistic that women in general will continue to be moved to take action, we also hope to see growth in the number of women of color—who are particularly underrepresented—in these areas. And of course, the message of the film addresses this issue as well.
"This film is about unity," Henson said in her powerful SAG acceptance speech. "This story is about what happens when we put our differences aside, and we come together as a human race. We win. Love wins every time."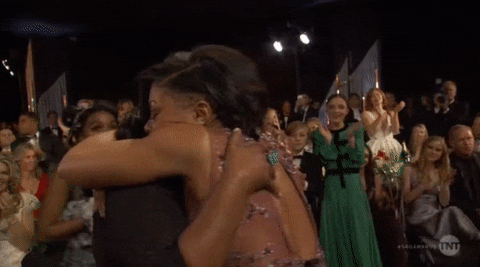 "The movie is important," Henson told E! on the red carpet. "And I don't want another young girl thinking that math and science is not for her."