#Movies & TV
More 'Gilmore Girls' Episodes Might Be Coming To Netflix
by Hannah Marsh
Netflix and the beloved Gilmore Girls creator are apparently in "very preliminary" talks about another reboot, and our hopes are definitely sky high right now.
If four episodes from last fall's revival just weren't enough to cure your Gilmore Girls obsession (and TBH, there will never be enough), the latest rumor is about to start your week off on the right foot.
Apparently, creator of the beloved GG Amy Sherman-Palladino is in "very preliminary" talks with Netflix about producing even more episodes, and we couldn't wish for anything more wonderful than that.
Netflix's chief content officer Ted Sarandos told the UK's Press Association in a recent interview, "We hope [it happens]. We obviously loved the success of the show and fans loved how well it was done; it delivered what they hoped. The worst thing is to wait a couple of years for your favorite show to come back and for it to disappoint you but they sure delivered and people were really excited about more and we have been talking to them about the possibility of that."
Wow. Not only would we get to continue to immerse ourselves in our favorite tiny town of Stars Hollow once again, but we would (hopefully!) get some more answers to everything the Gilmore Girls: A Year in the Life revival left us with (i.e. If Logan is actually Rory's baby-daddy or not!).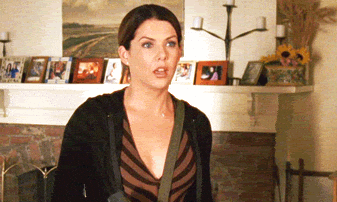 Honestly, the world could use more of the Gilmore ladies right now, and from the looks of the Twitter-sphere, we're not the only ones who think so.
PLEASE LET THIS HAPPEN! ???????? #GilmoreGirls https://t.co/I1UBzO1m54 pic.twitter.com/LwCVyAsDZP

— Kristyn Burtt ???????? (@KristynBurtt) March 6, 2017
A Note on the #GilmoreGirls Revival:
Needs more Jess.

That is all.@MiloVentimiglia

— Brianna Westervelt (@briwest11) March 6, 2017
please let this be true #GilmoreGirls

— alex (@aalexsmiles_) March 6, 2017
Don't tease me like this ! #gilmoregirls #GilmoreGirlsRevival https://t.co/vyvaGMoGSe

— Ally ◟̽◞̽ (@Ally_Oop_) March 6, 2017