#Movies & TV
Moulin Rouge! Will Finally Be a Stage Musical and It's Spectacular, Spectacular
by Caitlin White
Baz Luhrmann's beloved, frenetic musical will finally head to the stage.
Get your singing voices ready because Moulin Rouge! is finally headed to the stage, and it's going to be spectacular, spectacular.
The 2001 Academy Award-winning and cult favorite Baz Luhrmann movie has been begging for a stage adaptation that can capture its oddball frenetic energy, and it seems like it's in good hands. Global Creatures will produce, the same company that handled Luhrmann's Strictly Ballroom theatre production.
"It's immensely gratifying to know that a new wave of artists will be leading Moulin Rouge! into its rightful theatrical realm," Luhrmann said in a statement.
Moulin Rouge! — both the movie and that play within the movie — follows a penniless writer and his band of misfit friends as he ventures into the iconic Paris Moulin Rouge cabaret and falls hopelessly in love with the star performer. The problem? That performer is already promised to a wealthy investor, hoping to turn the can-can club into a respected theatre. Swoons, heartbreak, and then a whole lot of pop music singing ensues.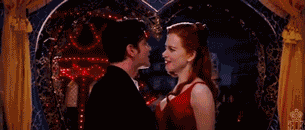 There's no word yet on casting, but fingers crossed that someone gets stars Ewan McGregor and Nicole Kidman on the phone to follow up on their movie performances. As for the music, it hasn't been revealed whether the pop music mash-up style will be repeated on stage or if the theatre production will have its own score. Either way, the show must go on, as Harry Ziegler would say.
How wonderful life is now this is in the world.