#Clothing
This 'Clueless' x K-Swiss Collab Has the Internet Buggin'
by Sidney Burds
Think we're missing out on these K-Swiss Clueless Sneakers? In the wise words of Cher, "Ugh! As if!"
If you haven't watched the '90s hit film Clueless yet, it's a cult-classic and I'm not sure what you've been doing with your life up until this very moment. And for those in the know, listen up! Though Cher Horowitz might have had confusion when it came to school and boys, the girl knew how to dress. You may not be able to have Cher's revolving closet, but these killer sneakers are the next best thing.
K-Swiss has designed two sneakers paying tribute to the movie's most iconic outfit: Cher's yellow plaid skirt set, and fans are freaking out. K-Swiss' Instagram comments are being flooded with Clueless quotes, "Cher: 'You see how picky I am about my shoes, and those are only on my feet.'" wrote one, while another commented, "Big fan of Clueless! I won't look like a Monet in these lol."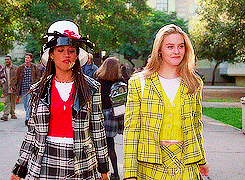 Both shoes are classic K-Swiss style sneakers. The first is all-white with a yellow interior and accents of the yellow plaid along the top. The other has the yellow plaid covering the entire shoe with a white interior. The pièce de résistance are the sneaker soles, which display, "Ugh! As if!" along with "Clueless".
Want a pair? Of course you do. Bust out your knee-high socks and head over to Foot Locker, Footaction, Finish Line, Journeys, and kswiss.com to swipe up one (or both) of these sneakers that are retailing for $80 each.
Each product we feature has been independently selected and reviewed by our editorial team. If you make a purchase using the links included, we may earn commission.