#Love & Sex
Here's What You Should Order On The First Date To Score A Second
by Hannah Marsh
Dating app Hinge surveyed their members to find out what kinds of first dates lead to a second, and spoiler alert: KFC is about to get a lot more popular.
It turns out that the unfortunate first date you went on last weekend might not be your fault at all. According to a new study created by the dating app Hinge, the probability of a successful first date (i.e. leads to a second date) can be predicted by the food you choose to eat.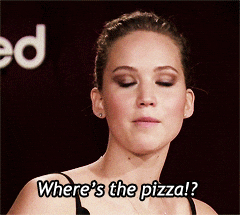 The info comes from a newly released survey from Hinge who asked 8,000 members across five U.S. cities about which kinds of first dates led to a second. So prepare to take notes.
TBH, we're pretty bummed that pancakes came in the bottom of the list with grabbing a stack on the first outing, but we're comforted by the fact that 24 percent of people responded that hitting the town for some fried chicken led to success. That was (kind of surprisingly) followed by grabbing vegan food at 23 percent and sushi at 19 percent. Pizza obviously made the list (otherwise we would've questioned everything about these people), but we're a little shocked that it only had a 15 percent chance of leading to a second date.
And if you really want to get specific, they also figured out which kind of drinks were the most successful in the world of first dates. Your best bet is a bloody Mary, which had a 57 percent success rate. (Think it's more if you add more garnishes?) An old fashioned was next with 35 percent, followed by beer at 27 percent. Tequila rounded out the bottom of the list at 20 percent, so we're going to go ahead and recommend that you don't start a possible-relationship with salt, tequila, lime.
Obviously there's no food or drink that will always have perfect results, but we're totally down to use this info as an excuse to head over to KFC. Either way, everyone still wins!